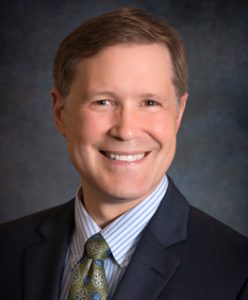 Experienced and kind, Dr. Douglas W. Vayda has been practicing as an orthodontist for over 25 years! He continually strives to provide exceptional patient care and customer service that results in beautiful smiles and long-term dental health. He enjoys the transformational nature of orthodontics on the smiles of children, adolescents and adults. Orthodontic treatment generally takes one to two years, and this allows him to get to know our patients and their families and to be part of their lives. He, along with our team, endeavors to make orthodontic treatment an exciting and enjoyable experience.
Dr. Vayda received his undergraduate degree from Pennsylvania State University with a Bachelor of Science in biology and later went on to the the Ohio State University for his Doctor of Dental Surgery. He then attended Harvard University for a Doctor of Medical Science in oral biology and a specialization certificate in orthodontics and dentofacial orthopedics.
Our practice offers cutting-edge orthodontic care, and Dr. Vayda attends many continuing education courses to add to his knowledge of orthodontic treatments. He also seeks out continuing education opportunities in implants, occlusion, temporomandibular joint disorders and general dental procedures to better coordinate his orthodontic treatment with overall dental health. Additionally, he has been an Invisalign® clear aligners provider since its inception in 1998.
He served on the Omicron Kappa Upsilon Dental Honorary Society board and was the faculty of the year for the University of Minnesota. Dr. Vayda has been a professor of orthodontics on the faculty at the University of Minnesota for over 30 years and has probably taught over 70% of the orthodontists in the state of Minnesota. He is a former assistant professor of orthodontics at the University of Pittsburgh and currently lectures on the topics of orthodontic diagnosis and treatment planning, biomechanics, treatment modalities including Invisalign clean aligner treatment, surgical orthodontics, cleft lip and palate treatment, and practice management. He also supervises the treatment planning and orthodontic care of patients in the orthodontic clinic at the dental school.
His wife, Patricia Vayda, is also a Harvard-trained orthodontist and former chair of the orthodontic
department at the University of Minnesota. She is now in private practice at our locations in Edina and Richfield, and they regularly consult with each other regarding patient care. They have raised two daughters, now living in New York City and Rochester, Minnesota, and are comfortably settled in as empty nesters who now care for their dog, Coco. Dr. Vayda's hobbies include running, skiing, drawing and painting.
Fun Fact: Dr. Vayda has treated over 15,000 patients in his career!